Our rats are PETS! No feeder or lab research request will ever be granted.
We rarely adopt our rats as singles. The rats are pack animals and need a company of their own. Consider adopting same-sex pairs.
We request that proper care will be given to all animals adopted from us. It includes spacious cages, safe bedding, proper nutritious food and water provided at all times, access to veterinary care. Please, refer to our
Rat Care
page to familiarize yourself with the basics. We are always available for consultation if a rat adopted from us becomes sick.
The rats are guaranteed to be disease-free at the time of adoption.
The prices for adoption are $20 (more for breeding rats or manx). The deposit may be required to reserve a rat.
The adoption price does not reflect quality of our pets: just a mere amount of effort invested into breeding of certain coat/tail/ear variety. All our pets are bred for temperament first and foremost. We will never place a pet who is a known biter.
We keep the right to cancel any sale at any time before the rat leaves our house. The refund will be issued in this case.
If you no longer can care for the rat adopted from us, we'll deem accepting the animal back. The refund will not be granted in this case.
Minors can adopt animals only with the consent of legal guardian who will take full responsibility for the welfare of the animals, and will sign the adoption contract.
Currently, we don't ship our animals.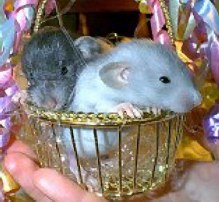 Rats make the best presents!