Angela, it was all your fault!
Some day - between cleaning the cages, entertaining the visitors, driving the kids, and - yes - going to school and working, - I will take time to tell the story of how we discovered the rats - and you - and fall in love - and what happened next !..
The story to follow...
Taliesin Rodentry, MA
(CLOSED)
Year of the Rat (closed)
Cathi's Critters Rattery,PA
(CLOSED)
Richland Rats (closed)
Andover Rattery, MA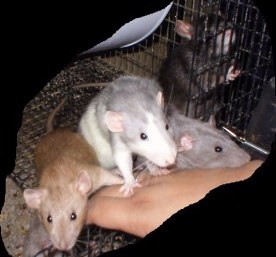 Blend of ratties